Wally Glenn will be displaying two art pieces at Burning Man this year, but the challenge will be where to find them.

The theme for Burning Man this year is Psyche: The Conscious, the Subconscious and the Unconscious. You may need all three just to locate the art pieces. They are actually in places that thousands of people will see them. The problem is, they are located in places the public is not encouraged to explore.
Flaming Zen Garden:
The Flaming Zen Garden will be located near the Keyhole at an undisclosed location. OK, its in front of a camp at about 6:01 and Esplanade. It will be running every night after dark.
Propane Fountain:
The Propane Fountain will be located at the entrace of a Burning Man support facility. It will not be viewable by the general public. However, the will delight the Burning Man staff by giving them their own special fire installation.
Burning the Man
Once again, Wally Glenn will be working as a pyrotechnician for the Burning of the Man. This year the effigy is sitting within a maze on top of a three story building.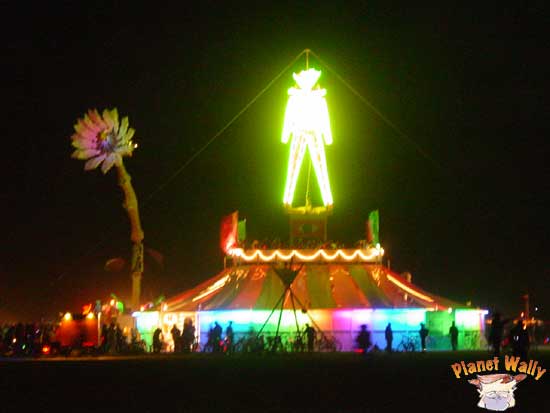 For photos of the Burn, please visit: arfarfarf.com/photos/
About Burning Man:
Burning Man is an alternative art festival and community gathering located north of Reno in Nevada. It occurs August 29 to September 5, 2005. This year's theme explores psychology: self-expression, self-reflection and the unconscious power of dreams. For this purpose, we'll divide a portion of the playa into zones, each relating to a different region of the mind. For more information, please visit burningman.com