I would like to profusely thank Jack Schroll, Dan Das Mann, Karen Cusolito, Captain Vince and company for allowing me to play with them on the White Holly.
On December 13, 2008, we boarded the White Holly and loaded on board Epiphany, a 25′ tall fire sculpture which belches flames out of her heart. We had a million volt tesla coil. We had a military grade smoke machine that could obscure a battleship in under a minute. We had a jet-powered flame thrower. We had a Victory Siren, the loudest air raid siren ever made. All of this was placed on a 130 foot steel hulled vessel called the White Holly and we went for a cruise. To cap it off, just off to the side was a 500 shell firework show produced by Pyro Spectaculars.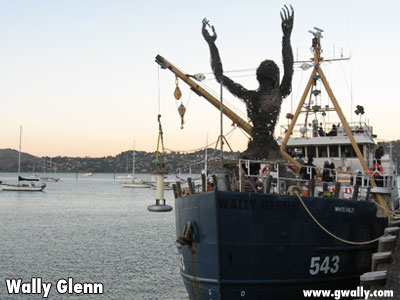 Some events we simply cannot promote in advance. But any event that brings together the crews from Black Rock Effects, Headless Point, Flaming Lotus Girls, is going to be an amazing event.
Shore View of the White Holly:

To figure out what the heck I am talking about, visit: www.gwally.com/news for the full details.
I really had fun and can't wait to do something like this very soon.